Toshiba NC HBCU Career Fair
September 20 @ 10:30 am

-

4:00 pm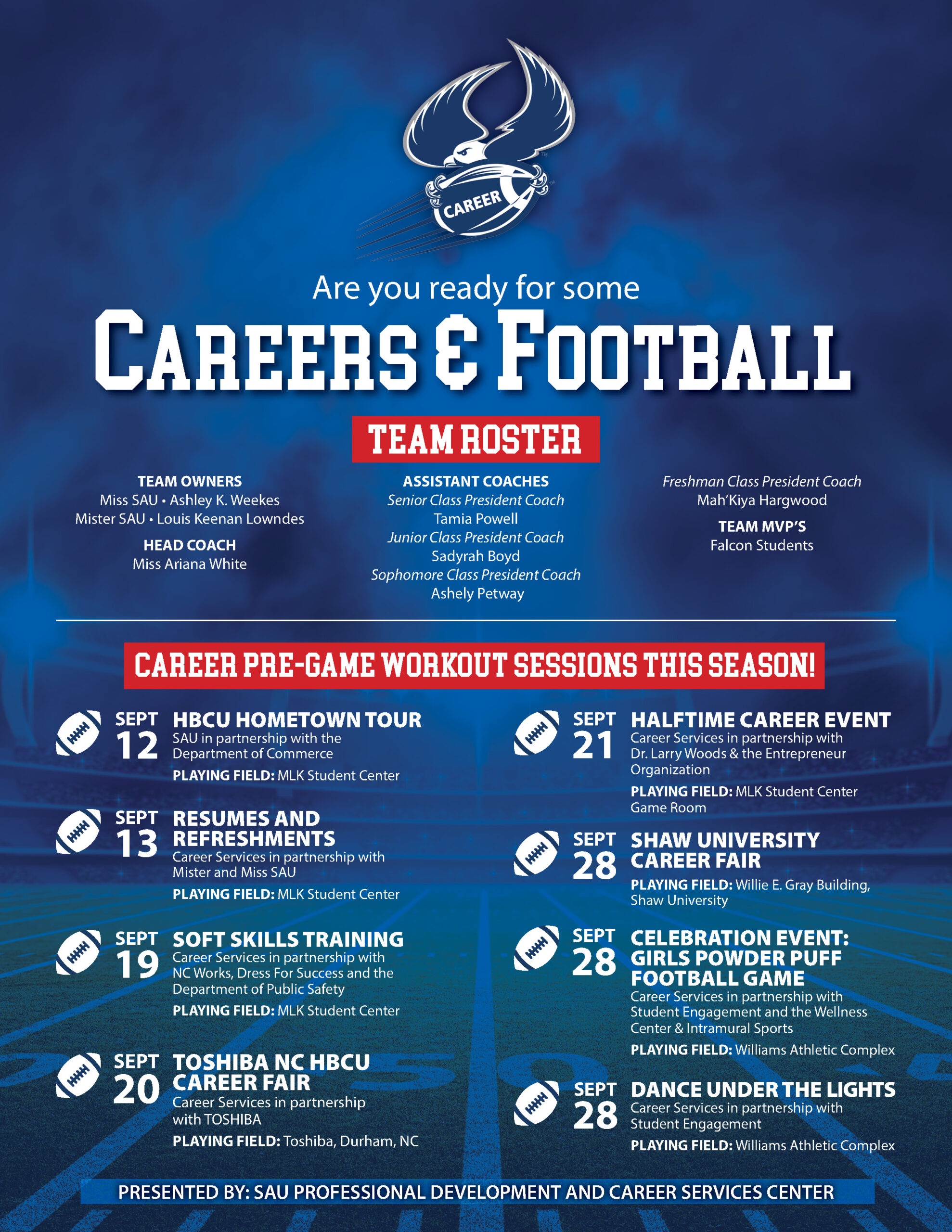 SAU in partnership TOSHIBA
9:15 A.M. | Transportation will leave campus from Boyer Bldg.
10:30 A.M. – 4 P.M. (lunch provided and approved class absence)
PLAYING FIELD: TOSHIBA Global Commerce Solutions HQ,
901 S. Miami Blvd., Durham, NC 27703
UNIFORM: Professional attire
HOSTED BY: TOSHIBA Global Commerce Solutions HQ
Attire Reminders:
*Dress code for everyone for select events: Your Favorite NFL, Semi-Pro, College, siblings/best friend or your own sports jersey! (football, basketball, baseball, hockey, and any other sports jersey, not t-shirts)  You can wear jeans and nice clean sneakers that must be tied up properly!
NO see-through jerseys or jerseys with holes at all! NO jersey dresses or mid-drift jersey shirts of any kind at all. All basketball/tank top sports jerseys (any jersey made with no sleeves), you MUST wear a regular shirt, not a white under shirt, with your jersey. If your jersey is made with mesh ventilation holes in the material again, you MUST wear a regular shirt under your jersey. NO ripped jeans, no shorts, no tights or biker pants at all!  NO warmup suits, warmup suit pants only, sweatshirts or hoodies. NO t-shirts, flip flops, Crocs, or work boots (Timberlands), etc. of any kind!
Please remember our guest speakers are professionals from the community. While we will have a relaxed atmosphere at some events, we still need to present ourselves in a professional manner!  PRESENTATION IS EVERYTHING!
Related Events